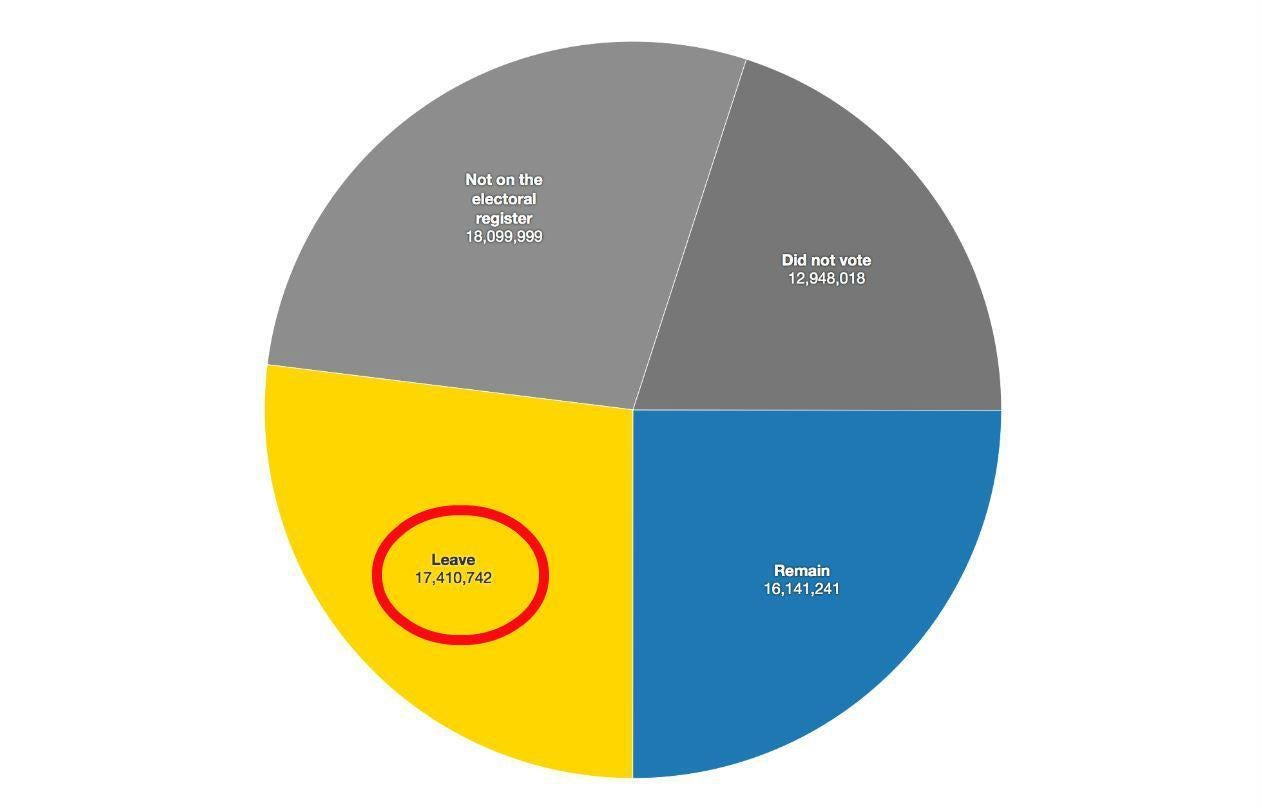 Something has been burning in the back of CM's mind as the UK election looms this week. While polls point to the Tories winning, Corbyn is likely to do way better than what the pundits predict. Could he end up as PM? It is not an impossibility. In fact, the odds are increasingly in his favour. CM thinks Corbyn might actually do it.
While it is true that 1.3mn more people voted to leave in the largest ever democratic process in UK history, almost 13mn people didn't vote on the basis they probably assumed it was a foregone conclusion. CM fundamentally believes that referendum results should have been respected regardless. Not showing up to vote is no excuse. None-the-less we now have a 'youthquake' who are desperate to overturn the referendum result to consider.
Of the 18.6mn that couldn't vote in the referendum in 2016, official figures suggest that 3.85 million registered to vote between the day the election was called on Oct. 29 and Tuesday's registration deadline — two-thirds of them under the age of 35. The youth seem far more preoccupied with socialism than their parents. While it is safe to assume that not all of the 13mn that didn't vote were remainers, the youth could well be a decisive factor.
CM detests pretty much every policy that Corbyn espouses as it would be a total disaster for Britain in terms of future investment and immediate capital flight. Yet young kids being offered free everything lack the lived experiences of pre-Thatcher socialism and the economic calamity that ensued. They are utterly clueless in this respect. Yet Corbyn sings all of the woke causes of climate change, social justice and equal outcomes. They are on his side.
How well do millennials know their tyrants? A CIS study in Australia showed that 58% of millennials had a favourable view of socialism. Unfortunately, 51% did not know who Chairman Mao was. Another 32% did not know Stalin and 42% hadn't heard of Lenin. If we combine with "know but not familiar" with "don't know" we see almost 80%, 66% and 74% respectively. Oh how wonderful to learn in school about three men whose social policies led to the deaths of 10s of millions. With Marxist teachers rife throughout academia, Corbyn will have a plentiful stock of willing comrades in his back pocket.
Still, as much as the press smears the socialist opposition leader, UK PM Boris Johnson has been the man who has been looking to avoid confrontation at all costs. Surely if BoJo possessed a winning hand and held a superior manifesto, why wouldn't he show up on the popular BBC programme hosted by Andrew Neil to state his case? It is a terrible look. Neil eviscerated Johnson without the PM being there to defend himself. Worse for BoJo is that his video went viral. What have you got to hide PM?
Corbyn could well snatch victory.  If the Tories take the attitude of former PM Theresa May's snap election in June 2017 they should beware the barking electorate. Don't forget how well Corbyn did in that fight.
CM stated in May 2017 the following,
"The first thought to come across CM's head when Theresa May called this [June] election was, "bad idea." This hubris she'd romp home may prove yet again how out of touch many politicians are with their constituents and how one must never believe in polls. I think she scrapes home but for now, wants the nightmare over."
History revealed she scraped home with the help of the DUP. The EU has masterfully engineered delay after delay to keep the 'remain' dream alive. Now the youth have gathered steam as registered voters, they could well hand the EU a gift that will keep its Ponzi scheme alive.
When will politicians realise that being less worse no longer cuts it with the electorate? They are sick of the self-interest of the political class. They want to blow it up. Johnson has not looked good and the Brexit Party, which might have smashed the European elections, looks as though it does not have the traction it had hoped for. It could underwhelm.
Many of the Labour MPs may have ignored their elderly constituents but it would be a safe bet to say that the ultimate outcome in these so-called "betrayed" constituencies is anything but a doe deal to shun them.
Polls are damned near useless now. They failed to predict Trump. Failed to pick Brexit. Why put faith that the UK pollsters are any closer to the mark?
Politics is a random walk. Trudeau managed to cling on to power in Canada despite being found guilty of two breaches of conflicts of interest, blackface, cultural appropriation and many other gaffes. Clearly, it didn't matter enough, just as "p*ssy grabbing" didn't impact Trump in 2016.
Therefore CM expects a much higher chance of a Corbyn PM-ship or at the very least a parliament that puts us straight back where we were before the election – a hung parliament with no rudder and a Brexit that is watered down in such a way that it achieves nothing in the way of that originally intended.
CM sincerely hopes he is wrong on Corbyn. He would be an economic disaster at a time the Tories would have left a troubling fiscal legacy that is nothing to write home about.
If Corbyn wins, the UK will face severe capital flight. The pound will tank. A second referendum will be put forward. The outcomes will be dire. This is not being hysteric in any way. The markets are simply not pricing it in at all.
At least Sir James Dyson of vacuum cleaner fame saw the light. He is a Brexiteer but his lack of faith in the process has already seen him relocate the HQ to Singapore. Many more would follow. After all, if Corbyn wants to control the behaviour of British business on the FTSE and nationalise utilities it will hardly be a fertile ground to invest.