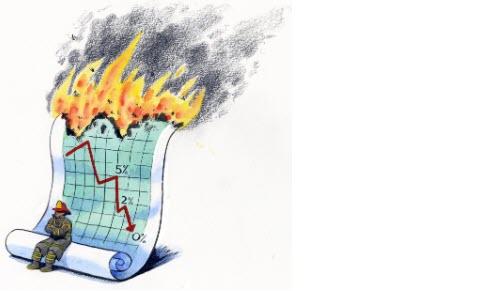 Jim Grant of Grant's Interest Rate Observer has a great article pointing out the irresponsibility of the US Fed. It criticises the very conditions that made the outcomes of coronavirus way worse than had they administered sensible monetary policies decades ago. FNF Media has been saying this for years. Now we are facing long overdue nemesis. It is true of the overwhelming majority of unimaginative MMT 'me too' central banks.
Grant wrote,
"It took a viral invasion to unmask the weakness of American finance. Distortion in the cost of credit is the not-so-remote cause of the raging fires at which the Federal Reserve continues to train its gushing liquidity hoses…But the firemen are also the arsonists. It was the Fed's suppression of borrowing costs, and its predictable willingness to cut short Wall Street's occasional selling squalls, that compromised the U.S. economy's financial integrity."
FNF Media keeps on hearing tales about the failure of evil capitalism. When the actions of central banks stifle the free market from achieving price discovery, distorted capitalism will inevitably backfire.
From hereon, sharp pain will be the only effective – and quickest – way to resolve this mess. Governments need to ensure bad companies go bankrupt by rejecting bailout money to zombie companies that will just be a drag on the economy.
Instead of doling out tax dollars, the government should take equity in any business that receives money. Taxpayers deserve a return and by this methodology, it will enforce a mindset that always rejects propping up companies with failed business models. Instead of the government calling the shots, the expertise of commercial lenders should be tapped, a valid point made by Jonathan Rochford.
Unfortunately, this will cause huge short-term disruption and impact large swathes of the community but it will allow markets to clear and provide a platform for risk to be priced appropriately. It is like yanking off a Band-Aid. It stings at first but the recovery becomes far more sound, based on rational economics. Failure to do so will just lead to a protracted Frankenstein economy which will frustrate the majority.
The sad reality will be that Western governments will try to emulate Japan's lost two decades by crawling on our belly making marginal inches forward. This is somehow seen as superior to hitting the giant "reset" button.
The only major difference being that the Japanese monoculture is experienced and better suited than any other nation to share grief. Western cultures are not remotely close to being able to tolerate such conformity. Japan is not capitalism with warts. It is socialism with beauty spots. It will pay to remember this. In the West, we will demand that others atone for our mistakes. Moral hazard will be the order of the day. This mentality must be stopped dead in its tracks.
Grant reinforced our long-held view on distorting capital markets with this,
"The Fed commandeered investment values into the government's service. It seeded bull markets in the public interest…But investment valuations don't exist to serve a public-policy agenda. Their purpose is to allocate capital. Distort those values and you waste not only money but also time…Like a shark, credit must keep moving. Loans fall due and must be repaid or rolled over (or, in extremis, defaulted on). When the economy stops, as the world has effectively done, lenders are likely to demand the cash that not every borrower can produce."
We must not forget that post-GFC authorities have been asleep at the wheel even after the introduction of poorly thought out red tape designed to protect us.
Right before the regulators' eyes, so many blue-chip corporations (e.g. Boeing, GE) binged on ultra-cheap debt to buy back their own shares just to chase short term performance incentives. In recent years, companies like Boeing and GE spent around $45 billion each aggressively buying back their own stock despite being in the midst of severe balance sheet deterioration. Both are trading in a state of negative equity today.
Ford Motor has a junk credit rating. GE & Boeing won't be far behind them. Over 50% of US corporates are trading one-two notches above junk.
The financial community has merely taken advantage of all of this short-termism. Where were the financial analysts doing forensic work on companies? All of this balance sheet deterioration was plain to see.  Why couldn't they see the obvious long term deterioration in cash conversion cycles? How could they miss that aggregate corporate after-tax profitability has been trending sideways since 2012? Where were the biopsies? We will be witness to plenty of autopsies that were preventable.
For Australia's part, 28 years of unfettered economic growth has bred untold complacency. Only now will we realise the conceited arrogance of government and industry alike. One day we will realise that all of the onerous regulations dripping in ideology (e.g. climate/environment) to confound foreign investment will blow up in our faces. They will not have forgotten that Australia is an unfriendly place to conduct business.
Australia has behaved like a bloated drunk bishop looking down upon his destitute disciples climbing the stairs on hands and knees putting what is left of their pitiful savings into the collection tin. From now, the roles will be reversed at prices that will be highly unfavourable such will be our desperation. Not to mention our currency could well depreciate to a degree which makes us even more vulnerable to foreign predators. Setting our FIRB at $0 will be irrelevant if we fold to the whims of the first suitor that shows interest. The show will be on the other foot.
In press conference after press conference, we continue to be told that hibernating companies will spring back to life and it will all be a case of 'keep calm and carry on!'We hate to sound negative here.
However, we believe that we are merely being realistic about what is to unfold. The coming depression will force us to become truly appreciative about just how well we have had it while governments have distorted our markets. Had we truly reflected on decades of prosperity instead of wailing about how life has never been worse, things might have turned out differently. We are about to get a true taste of the latter.
On reflection, some positives will come out of this tragedy because we will focus on things that matter rather than getting enmeshed in the theatre of the absurd – identity politics and the cancel culture.
Coronavirus might be a black swan event to the global economy but we have been complicit by allowing our lawmakers and regulators to play slalom with the icebergs. We all knew our overloaded ship was in danger of listing before we left the safe harbour but it was simpler to be suckered into the weather forecasts that predicted endless sunshine and eternal millponds. The engines have now stalled because the tanks are empty. We find ourselves in the middle of a pitch-black, stormy night with howling gale-force winds and a 40-foot swell. Some continue to cling on to the blind hope that the incumbent crew can bail fast enough to avoid the economy capsizing.
It will be all in vain because the ship's crew left a tape recorder playing on a loop over the tannoy promising passengers to stay in their cabins while they secretly slipped away in the early hours on the only lifeboats available.
Central banks had one mission – create confidence. They have been complicit in the failure. They doubled down on all of the same policies that got them in trouble in the lead up to GFC. They had a simple task of telling governments to embark on structural and tax reform. Instead, they appeased their masters by endlessly cutting rates.
Never again must central banks be allowed to use QE to rescue the economy in a downturn. Central bank balance sheets should be forced to unwind all QE assets. Interest rates must be allowed to set at normalised rates which allow positive returns but avoid reckless borrowing.
While a lot of this piece might sound pessimistic we simply view it as being a realist with experience.