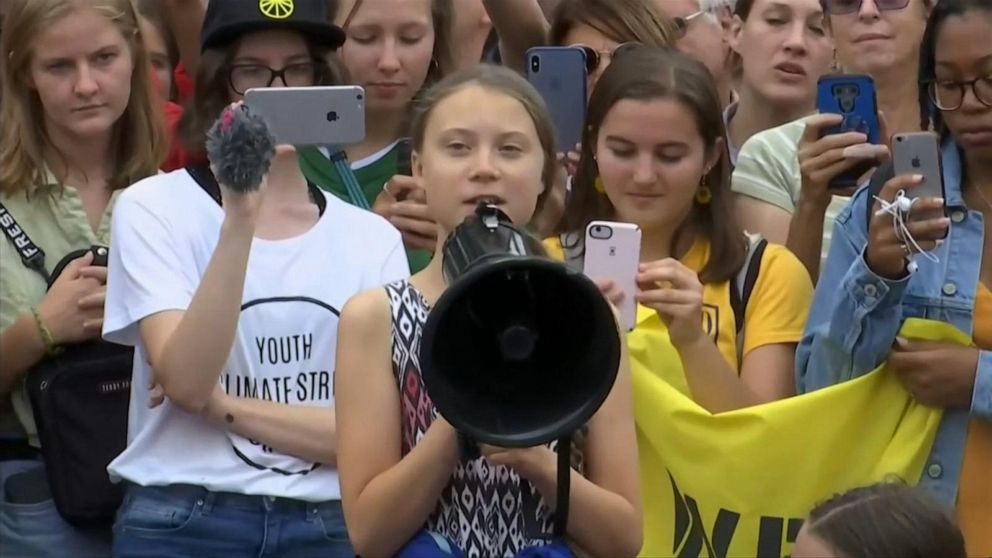 Is there one thing greater than climate change that can cause children irreparable harm? Yes. Perhaps the kids attending the school climate strikes tomorrow ought to consider that the very smartphone devices that they can't put down are also harmful to the environment. Will these kids happily give up their smartphones in a quest to save the planet? Will these kids be willing to give up Snapchat, Instagram, Facebook and Twitter to save their own lives? Not in a million years.
An abstract of a report on the impact of technological devices on GHG emissions by Belkhir & Elmeligi, titled, 'Assessing ICT global emissions footprint: Trends to 2040 & recommendations' is as follows,
"In light of the concerted efforts to reduce global greenhouse gas emissions (GHGE) per the so-called Paris Agreement, the Information and Communication Industry (ICT) has received little attention as a significant contributor to GHGE and if anything is often highly praised for enabling efficiencies that help reduce other industry sectors footprint. In this paper, we aim at assessing the global carbon footprint of the overall ICT industry, including the contribution from the main consumer devices, the data centers and communication networks, and compare it with the to the total worldwide GHGE. We conduct a detailed and rigorous analysis of the ICT global carbon footprint, including both the production and the operational energy of ICT devices, as well as the operational energy for the supporting ICT infrastructure. We then compare this contribution to the global 2016-level GHGE. We have found that, if unchecked, ICT GHGE relative contribution could grow from roughly 1–1.6% in 2007 to exceed 14% of the 2016-level worldwide GHGE by 2040, accounting for more than half of the current relative contribution of the whole transportation sector. Our study also highlights the contribution of smartphones and shows that by 2020, the footprint of smartphones alone would surpass the individual contribution of desktops, laptops and displays. Finally, we offer some actionable recommendations on how to mitigate and curb the ICT explosive GHGE footprint, through a combination of renewable energy use, tax policies, managerial actions and alternative business models."
The study found that the relative emissions share of smartphones is expected to grow to 11% by 2020, exceeding the individual contributions of PCs, laptops and computer displays.
In absolute values, emissions caused by smartphones will jump from 17Mt to 125Mt of CO2 equivalent per year (Mt-CO2e/yr) in that time span or +730%. Most of this occurs at the production stage. Nevertheless with mobile carriers encouraging shorter cycles to upgrade this will only get worse.
ICT will grow from 215Mt-CO2e/yr in 2007 to 764 MtCO2-e/yr by 2020, with data centres (storing all those photos) accounting for about two-thirds of the total contribution.
For comparison purposes, the entire carbon footprint of Australia was about 550 MtCO2-e in 2018.
CM guesses these kids ought to be walking to school too. It is a great lesson in what real sacrifice means. At least they got the day off school.