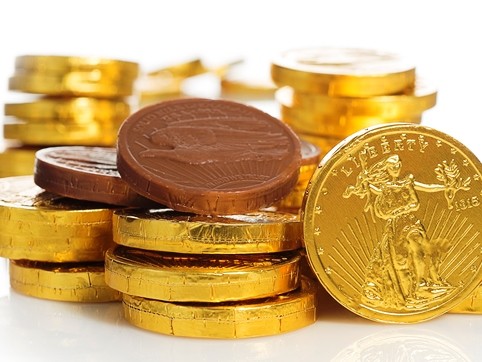 What is it with Elon Musk that keeps making up such fictitious dreams about the future? So even assuming his $2bn capital raise all goes smoothly, his dream of up to 1,000,000 robo-taxis, Tesla cars doubling in value and a market cap of $500bn is just barking mad. It reminds CM of a time when a mobile phone retailer in Japan, Hikari Tsushin, had Y100 trillion (c.US$1 trillion) market cap gold coin chocolates produced as a hubristic internal target in 2000. 19 years later the shares are only 9% of the peak price reached and 1% of the value of the prophecy embossed on the chocolate. It is up to the market to decide how much a company is worth, not the CEO. A CEO obsessed with the share price is always a dangerous game.
According to CNBC Musk said at his Autonomy Day,
"that autonomous driving will transform Tesla into a company with a $500 billion market cap, these people said. Its current market cap stands around $42 billion. He also said that existing Teslas will increase in value as self-driving capabilities are added via software, and will be worth up to $250,000 within three years.
Musk reiterated that because Teslas can be upgraded "over-the-air" with new software-enabled features and functionality, they will appreciate in value, unlike nearly every other car on the market. A Tesla will be worth $150,000 to $250,000 in 3 years, he claimed. He also said that a full self-driving upgrade will increase the value of any Tesla by a half order of magnitude, or five times.
Tesla expects to have 1 million vehicles on the road next year that are able to function as "robo-taxis," Musk said, reiterating statements made at Autonomy Day and on the company's Q1 earnings call. Each car should be able to do 100 hours of work a week for its owner, making money as a robo-taxi he told investors."
So if Musk's cars would be worth $150,000-$250,000 how does that reconcile with a sticker price of $35,000~$124,000? A used 2018 Model S 100D with 18,588 miles on the clock is $60,990. So the above used car could technically be worth c.2.5x higher in Musk's thought bubble. Where is the stampede of people running to used car lots to hoard compatible Teslas? That has to be one of the best investments out there – forget buying Tesla shares! Buy the used cars. Sadly, about the only cars that appreciate are limited edition classic cars. A mass-market electric car in abundant supply will not be worth a 100% mark-up, even if one takes into account the hypothesis is driven by the revenue uplift of one's car doing the rounds of a taxi while you sleep.
If Musk truly believes his robo-dream, he should move to immediately raise the price of his cars to the price range he thinks his cars will be worth. Why not bring back residual value guarantees (RVG)? That's right, he had to take a $121m write-down on existing RVGs this quarter just gone. Guess how many of his current line up he will sell at $150,000-250,000? Zero. That shows us the true value of Tesla. Appreciating Teslas and $500bn market caps. Some of the best comedy going. So is $240/share.