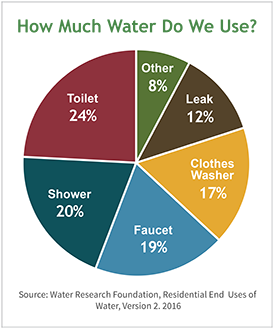 In 2018, Congress passed the WaterSense Bill which meant that the EPA would only attach WaterSense labels to products that are 20% more water-efficient and perform as well as or better than standard models. The legislation was passed because of long-standing issues with respect to water conservation. According to a 2014 Government Accountability Report, 40 out of 50 state water managers expect water shortages under average conditions in some portion of their states over the next decade.
Of interest on p.51 of that same GAO report was the admission that "State water managers and other experts we interviewed said maintaining the streamgage network is critical… …Specifically, 40 of 50 state water managers identified collecting data to determine the quantity of available surface water, a function that streamgages provide, as very or somewhat important…Moreover, many state water managers reported that increasing the number of streamgages to collect water quantity data would be a useful action federal agencies could take to assist states' water management efforts. USGS works in partnership with more than 850 federal, state, tribal, and local agencies to operate and maintain the network of over 8,000 streamgages around the United States."
As the report documents in the chart above, 3,500 streamgages have been discontinued. Which begs the question, why aren't legislators looking at getting better access to data with which to make more informed decisions?
What do you know? The GAO pointed to the following:
"In response to these data concerns, federal officials told us that insufficient funding is a primary barrier to expanding their data collection efforts. For example, an USGS official told us that the agency is committed to expanding data networks, but USGS's ability to collect data at more locations, improve timeliness, and conduct additional analyses is severely hampered by funding constraints."
Wouldn't it be better to bash Trump for demanding more budget cuts at the USGS (ignored by Congress by the way) instead of taking him to task for his style and manner in elucidating concerns over the efficacy of WaterSense legislation in practice?
Yet the mainstream media just couldn't help but take everything out of context in order to mock Trump. His remarks about flushing toilets "10-15x instead of once" is now headline news. Not the president's questions with respect to whether the newly labelled products are living up to the product claims. If the media wants to bash him, they only need to do a little digging to find plenty of factual ways of criticizing him instead of playing than man rather than the ball.
Thomas Sowell perhaps said it best with respect to government spending and efficacy,
"Those who cry out that the government should 'do something' never even ask for data on what has actually happened when the government did something, compared to what actually happened when the government did nothing."