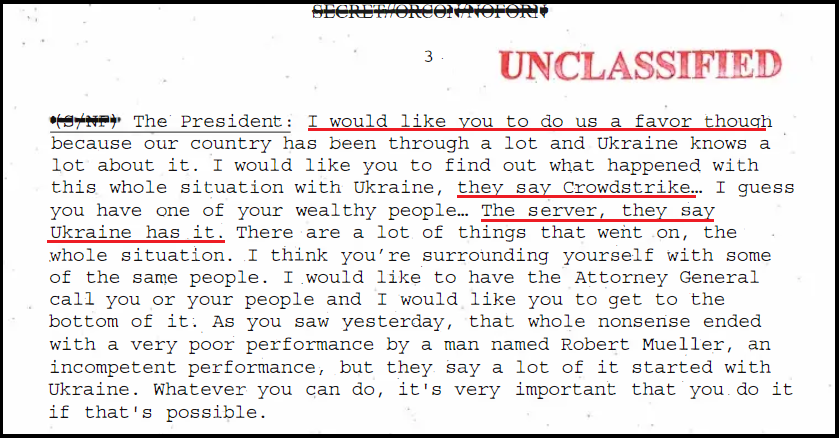 CM will say this from the outset. If Trump is actually guilty of a crime that validates formal impeachment, then the law of the land must prevail, regardless of partisan bias.
Unfortunately, this impeachment process smacks of Kavanaugh 2.0. Don't be surprised if more allegations come out of the woodwork. After Kavanaugh's eventual confirmation, recall that many who came forward in the hearings suffered bouts of amnesia or flat out reversed the initial allegations made. The Democrats remain so deranged, that if not careful, this could create an ill wind that will blow back on them if not successful.
Luckily for the Democrats, having a compliant mainstream media which can think of nothing better than aiding and abetting an impeachment are salivating so as to recover self-inflicted slumping ratings. So much for objective journalism. How cute that they pass so little airtime over allegations that US politicians could have family members embroiled in corrupt activities while they were in office. Don't Americans see that as worth knowing? Isn't it odd that Hunter Biden, a man with no experience in a particular field, was given a $600k job to act as a director, 10x the average CEO salary in the country?
How they missed the allegation that the first whistleblower, failed to disclose his meeting with House Intelligence Committee Chair Adam Schiff to the Inspector General Michael Atkinson. Atkinson didn't follow up because he had no knowledge until it came out. Never mind that according to 18 U.S. Code § 1001, anyone who "falsifies, conceals, or covers up by any trick, scheme, or device a material fact" might be guilty of making a false statement. A felony?
Now that whistleblower #1's credibility is looking even shakier (given his testimony was based on second-hand information), how surprising that whistleblower #2 has come out of the woodpile with supposedly first-hand information. He claims to have evidence supporting the first. What a surprise?
Will he/she also be found to be a registered Democrat? Will he have the same impartiality of FBI agent Peter "at no time in any of these texts did those personal beliefs ever enter into the realm of any action I took" Strzok when the lead investigator of Hillary Clinton's email saga and Trump's alleged Russia collusion?
Now the media wolf pack is seizing on comments that Secretary of State Mike Pompeo made supposedly about quid pro quo. He said,  "This is what we do. Nations work together and they say 'Boy...if you can help me with X, we'll help you achieve Y. This is what partnerships do. It's win-win, it's better for each of us." If one looked at nearly every administration, countries look for mutual benefits. What is remotely odd about that? Does America give aid to countries that benefit it? Israel perhaps? If you help keep peace in the region, we'll sell you state of the art equipment? Saudi Arabia? If you buy our fighter jets, we'll buy your oil?
Zelenskiy said there was no quid pro quo. Australian PM Scott Morrison spoke of exactly the type of cooperation Australia and the US has had for decades. It isn't a quid pro quo. It is mutual benefit. Sharing common values.
Officials taking part in the texts are Kurt Volker, former U.S. special envoy to Ukraine; William Taylor, who was interim chargé d'affaires in Kiev is the top U.S. diplomat in Ukraine; Gordon Sondland, U.S. ambassador to the European Union; and Andrey Yermak, a top aide to Zelenskiy.
In an exchange dated Sept. 9, in a text Taylor sent to Sondland, the career diplomat wrote: "I think it's crazy to withhold security assistance for help with a political campaign."
Sondland responds: "Bill, I believe you are incorrect about President Trump's intentions. The President has been crystal clear no quid pro quo's of any kind."
In a July 25 message between Volker and Yermak — the aide to Ukraine's president Zelenskiy — which occurred just ahead of the Trump-Zelenskiy call, Volker wrote:
"Heard from White House—assuming President Z convinces trump he will investigate/'get to the bottom of what happened' in 2016, we will nail down date for visit to Washington."
Weeks later, on Aug. 9, Sondland and Volker exchange texts as they try to establish a date for Zelenskiy's visit:
Sondland: "Morrison ready to get dates as soon as Yermak confirms."
Volker: "Excellent!! How did you sway him? 🙂"
Sondland: "Not sure I did. I think POTUS really wants the deliverable"
So the texts go to show there was no quid pro quo which involved "monies being withheld", which is the real point of attack by Schiff et al.
Does Trump wanting to get to the bottom of the very collusion during the 2016 election that the Democrats had been screaming about for the better part of two years all of a sudden require impeachment because that it doesn't suit their purposes? Do they want a president to wield a big stick or be a wallflower? 
Washington Post gave 4 out of 5 Pinocchio's to Adam Schiff. How hard must have that been? Pelosi removed Jerry Nadler from the investigation. Surely she must think to remove him given the incompetence he has shown? Now Schiff has made himself part of the investigation. He is now a witness. A bit hard to chair an impeachment enquiry when he himself is part of it.
What a farce.