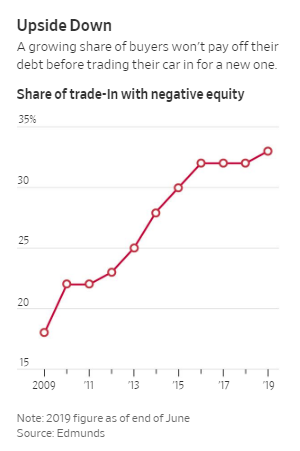 What is it with the US auto market that throws up so many canaries in the coal mine? Several years back CM wrote about the growth in sub-prime auto loans. What triggered this boom? Easier access to finance? That was one reason. As it happens the largest factor was driven by the ability for finance companies to shut down a vehicle by remote and repossess the vehicle should the buyer be unable to afford the monthly payments. This lowered risk and allows these long-dated loan products to thrive. Average subprime auto loans carry 10% p.a. interest rates. More than 6 million American consumers are at least 90 days late on their car loan repayments, according to the Federal Reserve Bank of New York.
About a 1/3rd of all US auto loans issued today are stretched out to seven years and beyond, according to the WSJ. A decade ago, the seven-year loan only made up about 10% of all loans. Even 10% of 2010 model year bangers are being bought on 84-month term loans.
After the tech bubble collapsed at the turn of the century do you remember the 'Keep America Rolling' programme, which was all about free financing for five years? While sales were helped along nicely, the reality was it stored up pain. As new car sales became harder to achieve, new financial products offered sweeter upfront incentives and buyback guarantees (because cheap finance was everywhere and not a differentiator) helped keep the fire stoked.
However, as front end incentives kept getting juicier, the cars on guaranteed buybacks were starting to return to the market at prices well below the 'guarantee' leaving automotive finance arms in a whole world of hurt and huge losses. Goldberg & Hegde's Residual Value Risk and Insurance study in 2009 suggested on average 92% of cars returned to leasing companies recorded losses on return of up to 12%. Any company can guarantee the price of its used product, in theory, the question is whether used car buyers will be willing to pay for it.
In the last decade, auto loans have ballooned from $740bn to $1.3 trillion. Auto dealers are now making a majority of their money on the finance deal as opposed to the sale of the actual car. Even worse, the US car market is experiencing a third of trade-ins in negative equity meaning the gap is being added to the price of the new car, hence the push out of the loan period to keep a lid on the size of monthly payments. This was 17% in 2008.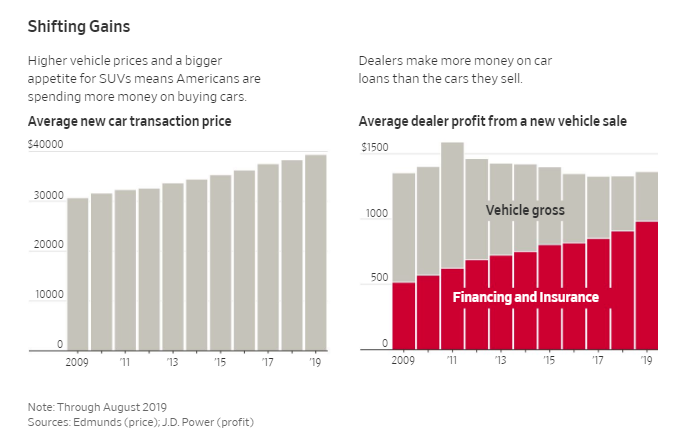 CM is sure there is nothing to worry about. It is consistent with nearly everything else that has occurred in finance since the GFC. Just double down, spend more, close your eyes and hope nothing bad happens. Ultimately it will be someone else's problem.
Serious auto-loan delinquencies – 90 days or more past due – in 2Q 2019, jumped 47 basis points year-over-year to 4.64% of all outstanding auto loans and leases, according to New York Fed. This is equivalent to the delinquency rate in Q3 2009, just months after GM and Chrysler had filed for Chapter 11 bankruptcy. The 47-basis-point jump in the delinquency rate was the largest year-over-year jump since Q1 2010. Actual outstanding delinquent 90 day + delinquencies stand at $60bn in 2Q 2019, almost double the amount of 4Q 2010.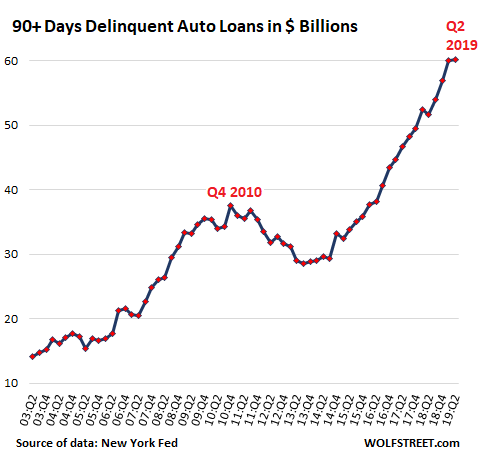 Did CM mention gold?