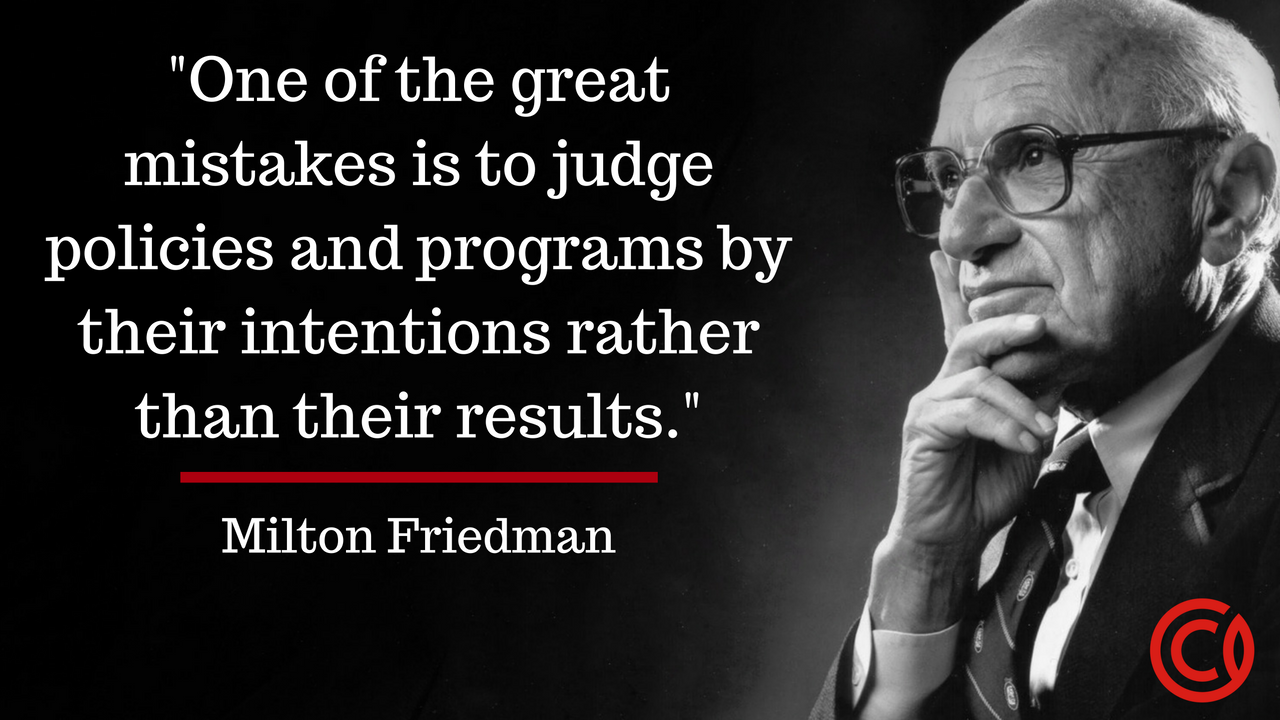 In his 1967 presidential address to the American Economic Association, Nobel laureate economist Milton Friedman said, "… we are in danger of assigning to monetary policy a larger role than it can perform, in danger of asking it to accomplish tasks that it cannot achieve, and as a result, in danger of preventing it from making the contribution that it is capable of making."
What we are witnessing today is not capitalism. While socialists around the world scream for equality and point to the evils of capitalism, the real truth is that they are shaking pitchforks at the political class who are experimenting with economic and monetary concoctions that absolutely defy the tenets of free markets. As my learned credit analyst and friend, Jonathan Rochford, rightly points out, central banks have applied "their monetary policy hammer to problems that need a screwdriver."
Never has there been so much manipulation to keep this sinking global ship afloat. Manipulation is the complete antithesis to capitalism.  Yet our leaders and central banks think firing more cheap credit tranquillizers will somehow get us out of this mess. IT. WILL. NOT.
BONDS
As of August 15th, 2019, the sum of negative-yielding debt exceeds $16.4 trillion. That is to say, 30% of outstanding government debt sits in this category. Every single government bond issued by Germany, The Netherlands, Finland and Denmark are now negative-yielding. Germany just announced a 30-yr auction with a zero-interest coupon.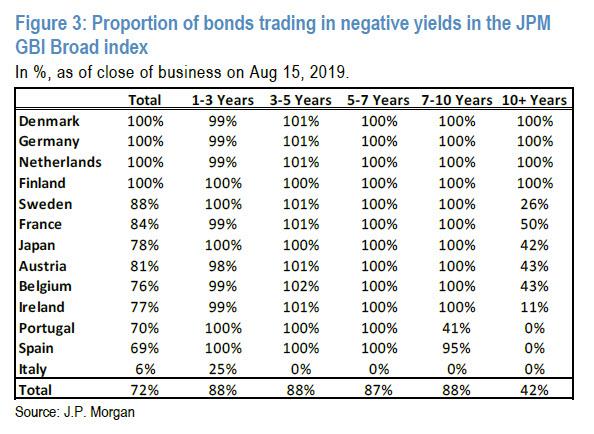 Unfortunately, insurance companies and pension funds are large scale buyers of bonds and negative interest rates don't exactly serve their purposes. Therefore the hunt for positive yield (that ticks the right credit rating boxes) means the pickings continue to get slimmer.
Put simply to buy a bond with a negative yield, means that the cost of the bond held to maturity is more than the sum of all the coupons due and the receipt of face value combined. It also says clearly that controlling the extent of the loss of one's money is preferable to sticking to strategies in other asset classes (e.g. property, equities) where TINA (there is no alternative) is the rule of thumb.
CM believes that there is a far bigger issue investors should focus on is the return "of" their money, not the return "on" it.
Rochford continues,
"Central banks have hoped that extraordinary monetary policy would kick start economic growth, but they have instead only created asset price growth. In applying their monetary policy hammer to problems that need a screwdriver they have created the preconditions for the next and possibly greater financial crisis. The outworkings of many years of malinvestment are now starting to show with increasing regularity.
Argentina's heavily oversubscribed issuance of 100-year bonds in 2017 was considered insane by many debt market participants at the time. The crash to below 50% of face value this month and request for maturity extensions is no surprise for a country that has a long rap sheet of sovereign defaults. Greece's ten-year bond yield below 2% is another example of sovereign debt insanity…
…There have been three regional bank failures in China in the last three months, likely an early warning of the bad debt crisis brewing in China's banks and debt markets. Europe's banks aren't in much better shape, there's still a cohort of weak banks in Germany, Greece, Italy and Spain that haven't fixed their problems that first surfaced a decade ago. Deutsche Bank is both fundamentally weak and the world's most systemically important bank, a highly dangerous combination."
What about equity markets?
EQUITIES
We only need look at the number record number of IPOs in 2018 where over 80% launched with negative earnings, you know, just like what happened in 2000 when the tech bubble collapsed.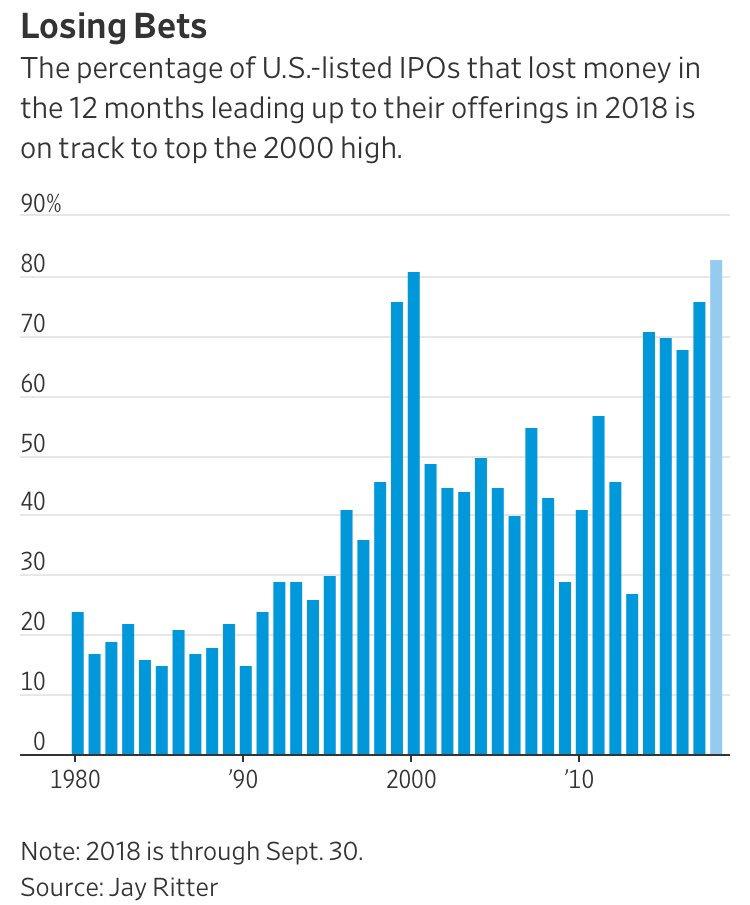 Have people paid attention to the fact that aggregate US after-tax corporate earnings have been FLAT since 2012? That is 7 long years of tracking sideways. Where is this economic miracle that is spoken of?
The only reason the markets have continued to remain excited is the generous share buyback regimes among many corporates which have flattered earnings per share (EPS). The "E" hasn't grown. It is just that "S" has fallen. Credit spreads between AAA and BBB rated corporate paper has been so narrow that over 50% of US corporates now have a BBB or worse credit rating. Now credit spreads between top and bottom investment-grade bonds remain ridiculously tight. At some stage, investors will demand an appropriate spread to account for market "risk."
Axios noted that for 2019, IT companies are again on pace to spend the most on stock buybacks this year, as the total looks set to pass 2018's $1.085 trillion record total. Pretty easy to keep markets in the clouds with cheap credit fuelling expensive buybacks. Harley-Davidson is another household name which suffers from strategy decay yet deploys more cash to share buybacks instead of revitalising its core franchise. Harley delinquencies are at a 9-yr high.
Companies like GE embarked on a $45bn share buyback program despite a balance sheet which still reveals considerable negative equity. GE was the largest company in the world in 2000 and now trades at 20% of that value almost 20 years later.
Should we ignore Harry Markopolos, who discovered the Bernie Madoff Ponzi scheme, when he points to the problems within GE? GE management can protest all they like but ultimately the company is not winning the argument if the share price is a barometer.
Valuations are at extreme levels. Beyond Meat trades at 100x revenues. Don't get CM started on Tesla. A largely loss-making third rate automaker which is trading at outlandish premiums. The blind faith put in charge of a CEO that has lost over 100 senior management members.
Bank of America looked at 20 metrics to evaluate current market levels of the S&P500. 17 of them pointed to excess valuations relative to history including one metric that revealed S&P500 being 90% overvalued on a market cap to GDP ratio. Never mind.
Then witness the push for diversity nonsense inside corporate boardrooms. CM has always believed if a board is best suited to be run by all women based on background, skills and experience, then so be it. That is the best outcome for shareholders. However, to artificially set targets to morally preen will mean absolutely nothing if a sharp downturn exposes a soft underbelly of a lack of crisis management skills. Shareholders and retirees won't be impressed.
It was laughable to hear superannuation funds ganging up on Harvey Norman last week for not having a diverse enough board. Even though Harvey Norman is thumping the competition which focuses too much on ESG/CSR, the shortcomings of our retirement managers are only too evident. Retirees want returns and their super managers should focus on that, rather than try to push companies to meet their ridiculous self-imposed investment restrictions. Retirees won't be happy when their superannuation balances are decimated because fund managers wanted to appear socially acceptable at cocktail parties.
PROPERTY
It was only last month that Jyske Bank in Denmark started to offer negative interest mortgages. That is the bank pays interest to the mortgage holders. Of course, the bank is able to source credit below that rate to make a profit however net interest margins for the banks get squeezed globally. What next? Will people be able to sign up to a perpetual negative interest mortgage? Shall we expect a Japan-style multi-generational loan?
The RBA's latest chart pack shows net interest margins at the lowest levels for two decades. With the Hayne Banking Royal Commission likely to further crimp on lending growth, we are storing up huge pain in property markets despite the hope that August clearing rates signal a bottom in the short term. Yet more suckers lured in at the top of a shaky economy and financial sector.
Of course, central banks will dance to the tune that all is OK. Until it isn't.
Don't forget former US Treasury Secretary Hank Paulson, said "our financial institutions are strong" right before plugging $700bn worth of TARP money to save many of them from bankruptcy in 2008.
CM has previously investigated the Big 4 Aussie banks who have equity levels that are chronically low levels. Our major banks have such high exposure to mortgages that a severe downturn could potentially lead to part or whole nationalisation. Of course, between signalling the importance of factoring climate change, APRA assures us the stress tests ensure our financial institutions are safe.
Back in 2007, Sydney house prices were 8x income. In 2017 Demographia stated average housing (excluding apartment) prices were in the 13-14x range. The Australian Bureau of Statistics notes that 80% of people live in houses and 20% in apartments. Only Hong Kong at 19x beats Sydney for dizzy property prices. In 2019, expect that price/income rates remain at unsustainable levels.
In 2018, Australia's GDP was around A$1.75 trillion. Our total lending by the banks was approximately $2.64 trillion which is 150% of GDP. At the height of the Japanese bubble, total bank lending as a whole only reached 106%. Mortgages alone in Australia are near as makes no difference 100% of GDP. Where there is smoke, there is fire.
At the height of the property bubble frenzy, Japanese real estate related lending comprised around 41.2% (A$2.5 trillion) of all loans outstanding. N.B. Australian bank mortgage loan books have swelled to 64% (A$1.8 trillion) of total loans.
Sensing the bubble was getting out of control, the Bank of Japan went into a tightening rate cycle (from 2.5% to 6%) to contain it. Unfortunately, it led to an implosion in asset markets, most notably housing. From the peak in 1991/2 prices over the next two decades fell 75-80%. Banks were decimated.
In the following two decades, 181 Japanese banks, trust banks and credit unions went bust and the rest were either injected with public funds, forced into mergers or nationalized. The unravelling of asset prices was swift and sudden but the process to deal with it took decades because banks were reluctant to repossess properties for fear of having to mark the other properties (assets) on their balance sheets to current market values. Paying mere fractions of the loan were enough to justify not calling the debt bad. If banks were forced to reflect the truth of their financial health rather than use accounting trickery to keep the loans valued at the inflated levels the loans were made against they would quickly become insolvent. By the end of the crisis, disposal of non-performing loans (NPLs) among all financial institutions exceeded 90 trillion yen (A$1.1 trillion), or 17% of Japanese GDP at the time.
The lessons are no less disturbing for Australia. As a percentage of total loans outstanding in Australia, mortgages make up 65%. The next is daylight, followed by Norway at around 40%. US banks have cut overall property exposures and Japanese banks are now in the early teens. Post GFC, US banks have ratcheted back mortgage exposure. They have diversified their earnings through investment banking and other areas. That doesn't let them off the hook mind you.
Japanese banks have 90%+ funding from domestic deposits. Australia is around 60-70%. Our banks need to go shopping in global markets to get access to capital. Conditions for that can change on a dime. External shocks can see funding costs hit nose bleed levels which are passed onto consumers. When you see the press get into a frenzy over banks passing on more than the rate rises doled out by the RBA, they aren't just being greedy – a large part is absorbing these higher wholesale funding costs.
Central banks need a mea culpa moment. We need to move away from manipulating interest rates to muddle through. It isn't working. At all.
Rochford rightly points out,
"Coming off the addiction to monetary policy is going to be painful, but it is the only sustainable course. It is likely that normalising monetary policy will result in a global recession, but this must be accepted as an unavoidable outcome given the disastrous policies of the past. Excessive monetary and fiscal stimulus has pulled consumption forward, the process of unwinding that obviously requires a level of consumption to be pushed backwards."
Rochford is being conservative (no doubt due to his polite demeanour) in his assessment of a global recession. It is likely that this downturn will make the GFC of 2008 look like a picnic. CM thinks depression is the more apt term. 1929, not 2008. Central banks are rapidly losing what little confidence remains. If the RBA think QE will be a policy option, there is plenty of beta testing to show that it doesn't work in the long run.
It is time to have the recession/depression we had to have to get the markets to clear. It will be excruciatingly painful but until we face facts, all the manipulation in the world will fail to keep capitalism from doing its job in the end. The longer we wait the worse it will get.
"It's not what you don't know that gets you into trouble…..it is what you know to be sure that just ain't so!" – Mark Twain.